First Things First
We all know yelp, they're the ones who help customers share positive and negative experiences with businesses on a 5- star scale, primarily restaurants. With their recent (2015) acquisition of popular food ordering app EAT24, yelp is out to dominate yet another market, food delivery.
"EAT24" is one of many app-based food delivery services emerging in cities and suburbs across the country, and they managed to partner with one of the most successful food and beverage apps available – Yelp. 
With Yelps entrance into the food delivery market they are bridging the gap between reviewing and ordering. What does this mean for restaurants? Is it worth the expense? What is the expense? And, how do I even begin to make sense of this in my financial books?  As Dataurant pro's and restaurant accounting experts we seek to answer these questions today.
Let's start with this:
Yelp Eat24 is a platform for restaurants who want to deliver without building their own app. This means that the restaurant is responsible for delivering food and collecting cash payments (if cash is used). So, for restaurants that already have great delivery margins and want to expand their reach, this could be a great option. However, if the restaurant is considering delivery and is already operating with tight profit margins (as with most), this may not be the best option.
Keep in mind that many restaurants are charging customers delivery fees in the $5-10 range, so this is a nice way to make up the commission fee on small orders. However, a large order (say, $100) would cost $12.50 in commission. Delivery fees are typically flat, so the cost is no longer covered.  
In order to understand and make sense of this new revenue opportunity, I would avoid a common mistake and consider adding Yelp EAT24 as a method of payment rather than a discount item in your POS system. Once this is complete, the journal entries are fairly straightforward.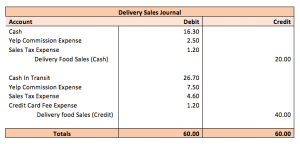 What about the commission? The credit card fees? Taxes?
Yelp will either send an invoice once a month as a paper check, or once a week with direct deposit payments on Wednesday (for sales occurring the previous Monday through Sunday), depending on your preference. The fees accumulated over the pay period will be deducted from your payment. This includes credit card fees, commissions, and sales tax. Thats right, Yelp remits sales tax on behalf of the merchant, why? Most likely because a discount is commonly offered for early payment, Yelp can collect this discount if they pay on your behalf.
If you have cash sales through the app, the fees associated (commission and sales tax) will also be deducted from the deposit. As you can see in the example above, with $60 in food sales ($40 credit and $20 cash) you will pay $7.50 in commission, $1.20 in credit card fees, and $4.60 in sales tax, totaling $13.30. This means you will gross $46.70 on the $60 sale ($20 in cash and $26.70 in deposit from Yelp). If these same three sales were made through the restaurant, you would gross $54.20, (an additional $7.50 or 12.5%) because sales tax and credit card fees are still applicable.
Cash Flow Impact
For a restaurant with EAT24 credit card sales that average $40 a day, a restaurant will probably pay the delivery driver $13/hour and will need to wait until Friday to receive $195 for the sale of $247.80 of food. Not a huge impact on cash flow, but $247.8 could pay for 40 hours of work for an additional three tippable employees, or an extra 160 pounds of chicken breast to get you through the weekend rush. If the restaurant is able to show consistent and respectable delivery sales perhaps a line of credit can be arranged against the monthly or weekly receivables, as long as the interest payment is realistic.
How do I add this service to my POS system? To QuickBooks?
Simply remember this new revenue should be entered as a method of payment, not a discount.
Once you have added the item to your POS system, we recommend using QuickBooks POS Link to automatically post this, and all other daily entries from the POS System into QuickBooks – ensuring accuracy, saving time, and strengthening your bookkeeping by revenue center, time of day, and location.
Once delivery orders start flowing in the accounting can become more difficult, knowing that Dataurant's "set it and forget it" software is transferring all the POS data to Quickbooks is one less task to worry about.